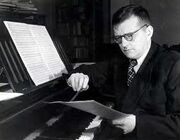 Welcome!
Welcome to the Shostakovich Wiki! Our goal is to create a place that contains all available information on the composer Dmitri Shostakovich. The Shostakovich Wiki encourages the addition and correction of information as well as article creation. Feel free to post your analysis of and thoughts about a particular piece on the discussion pages, or ask questions through the forums.
News
5 September 2010 - The Shostakovich Wiki is online!
Contributing
The Shostakovich Wiki is a growing collection of information regarding Dmitri Shostakovich! Visit the community portal to learn how to contribute. It is recommended that all new contributors read our rules and policies.
Contributing: You can contribute and participate in the growth of this wiki by sharing your knowledge of Shostakovich with others!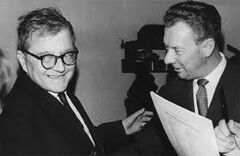 Projects:
Adding category pages
Adding pictures to pages
Fixing grammatical errors
Writing an analysis of all works

Other Tasks: Website Cleanup
See also: the English Wikipedia article on Shostakovich
Featured